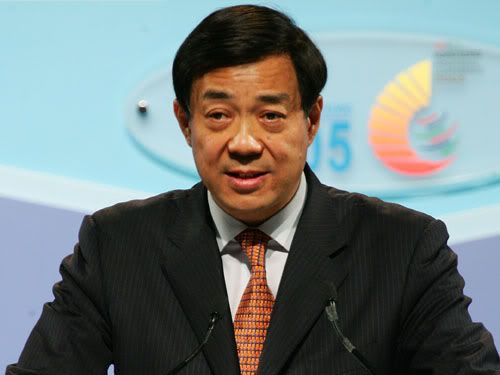 Bo Xilai é um político talentoso. Tem-no provado ao longo das últimas duas décadas. No livro "Pela China dentro", António Caeiro fala dele quando Bo, princeling filho de Bo Yibo, um dos chamados Oito Imortais que lideraram a China entre o fim da Revolução Cultural e o final da dé cada de 1980, era presidente da Câmara de Dalian, na província de Liaoning. Formado em jornalismo (uma caso raríssimo entre o lote de engenheiros da Quarta Geração e economistas-juristas da Quinta Geração), Bo Xilai faz valer a sua formação na forma como lida com os media e através destes como comunica com os cidadãos.

"Bo Xilai era mais conhecido que o primeiro-secretário do Partido, que formalmente é o número um da hierarquia local. Gostava de andar pela rua, entre o povo, e as pessoas reconheciam-no. parecia um político ocidental" (António Caeiro, Pela China Dentro: Uma viagem de 12 anos, p.112).

Mais tarde foi governador de Liaoning e depois Ministro do Comércio, cargo com o qual ganhou dimensão internacional. Em 2007, chegou a ser referido como um forte candidato ao Comité Permanente do Politburo (CPP) do Partido Comunista Chinês, mas em vez disso, apenas ficou no Politburo alargado e foi "enxotado" para Chongqing onde lhe foi atribuído o cargo de primeiro-secretário do Partido. Bo foi excluído do núcleo duro da Quinta Geração, sendo afastado de Pequim e dos holofotes dos media. Isto até Junho deste ano, quando decidiu transformar uma aparente desvantagem - estar fora da capital- para lançar uma campanha de limpeza do crime organizado no município de Chongqing. O South China Morning Post traz na edição desta Quinta-feira um texto ilustrativo sobre o alcance da operação de BoXilai, no que diz respeito ás suas ambições e possibilidades de ascensão política, de volta para Pequim, com os olhos postos em 2012, altura em que vai ser escolhida a nova liderança do Partido. Bo está bem colocando para subir ao CPP.
"People in Chongqing, and mainland media, have lavished Bo with praise for his courage in taking on the gangs, whose members colluded with police and government officials. An article posted on the website of the party mouthpiece People's Daily even compared his campaign to that by the late paramount leader Deng Xiaoping to wipe out bandits in the southwest 60 years ago (…) Bo has been a member of the Politburo since 2007, and his move to Chongqing came soon after his elevation. It was widely interpreted as a step to prepare him for a high position in the central government. Like his predecessor in Chongqing, Wang Yang, Bo is believed to have a good chance of promotion before 2012, when incumbent leaders will retire".
"Is it next stop Beijing for Bo aboard the Chongqing express?", Shi jiangtao,
South China Morning Post,