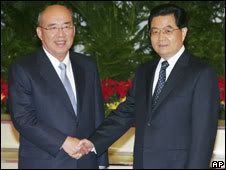 Foto AP
The head of Taiwan's ruling party has met Chinese President Hu Jintao in the highest-level encounter since the two sides split in 1949.
Tudo está a acontecer num ápice. O ambiente entre os dois lados do estreito é cada vez mais caloroso. Hu Jintao já começou a desvendar por onde pode começar a boa-vontade de Pequim: assim que as consultas entre os dois lados recomecem, Pequim admite rever a posição da RPC face à possibilidade de Taiwan particpar nos encontros da Organização Mundial de Saúde, como observador. A Primavera chegou ao estreito (ao que tudo indica para ficar).

"After the two sides resume consultations, (we) can discuss the issue of (Taiwan's) participation in international activities ... including giving priority to discussing the issue of attending WHO activities," Hu said.