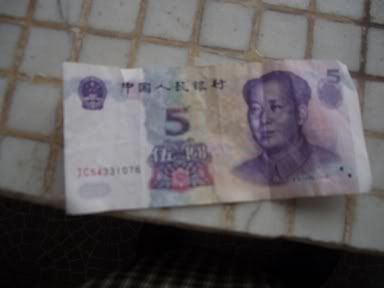 Ao longo destes dias muito tem sido escrito sobre a reforma do valor da moeda chinesa.Destaco aqui algumas contribuições:
David Barboza no New York Times (via I.HT.)
destaca o risco de uma sobrecarga de "hot money" especulativo que começou a entrar na China na sexta-feira, um dia depois do anúncio do Banco Central da China de desligar o yuan do "peg" fixo face ao dólar, passando a cotar a divisa chinesa contra um cabaz de moedas. Muitos investidores seguem as previsões que indicam que o yuan deverá continuar a valorizar-se contra o dólar ao longo dos próximos meses, podendo subir entre 10 a 20 por cento até ao final do ano. O novo mecanismo permite isso e muito mais. A banda de negociação diária da divisa chinesa é de 0.6 por cento - podendo por isso subir até 0.3 por cento diariamente. O que naturalmente não deverá acontecer. Certo é que a pressão vai aumentar, uma vez que com um crescimento económico "de cortar a respiração", a tendência será para uma valorização gradual do yuan. Veja-se por exemplo um estudo do Banco Mundial que prevê que o yuan suba para 5.80 por cada dólar em 2010, atingindo 2.80 yuans por cada unidade da moeda americana em 2020.Vários analistas têm sublinhado que esta medida é mais política que económica. Ou seja, o objectivo é agradar parceiros comerciais como os Estados Unidos e a União Europeia que se queixavam de uma situação de injustiça no comércio internacional devido a um valor artificialmente baixo do yuan. Mas há outras questões em jogo. Paul Krugman por exemplo lembra que "
To keep China's currency from rising, the Chinese government has been buying up huge quantities of dollars and investing the proceeds in U.S. bonds
adiantando que, "
if the Chinese stopped buying all those U.S. bonds, interest rates would rise. This would be bad news for housing - maybe very bad news, if the interest rate rise burst the bubble"
(...)
Right now America is a superpower living on credit - something I don't think has happened since Philip II ruled Spain. What will happen to our stature if and when China takes away our credit card?
Vêm aí tempos interessantes...