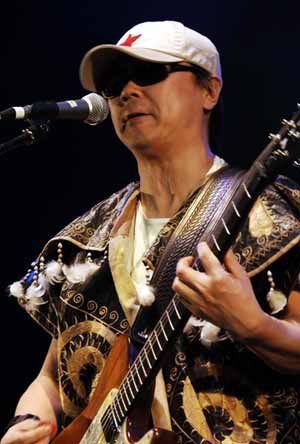 Cui Jian nos anos 1980 e na passada sexta-feira em Pequim.
Cui Jian
é considerado o pai do Rock Chinês. Depois de vários anos de proibição de tocar em Pequim, o autor de músicas entoadas pelos estudantes de Tiananmen, em 1989, actuou no Estádio dos Trabalhadores, no festival "Peaceful Sky". Em declarações à Agência Lusa e à Agência EFE, Cui explicou o levantamento da interdição com o facto de o governo Governo agora não ligar "à cultura subterrânea, porque esta já não tem tanta influência como antes." Sinais contraditórios numa China em que existe uma maior liberalzação dos costumes e da economia, mas onde o controlo político é mantido com mão de ferro pelo Partido Comunista.
Numa entrevista publicado no
Asia Pacific Arts
, Cui Jian fala assim sobre a situação política na China:
It's not black or white. There's some color in between, like gray. I think there's nothing you can do, but there's nothing you cannot do. There's a lot of freedom there too, but if you really want to show art to the public, that is hard. If you create and write at home, I don't think you'll have any problems with that; you can talk to friends and write anything you want to write and nobody will bother you.