"Avisos à navegação",
José Rocha Dinis.
"Final farewell",
The Standard.
"Um exemplo para 2009",
Hoje Macau
"Hong Kong",
Exílio de Andarilho.
Excertos do editorial do
South China Morning Post
- "Lessons to be learned from election results":
"

In general, candidates who tackled livelihood issues and appealed to the working class did well; those perceived to favour business interests did not. The balance of power between the pan-democrats and Democratic Alliance for the Betterment and Progress of Hong Kong has not changed significantly. Both camps now have two fewer seats than after the 2004 election. The democrats, no doubt, breathed a deep sigh of relief. They managed to hold on to 23 seats, enough to have veto power over any constitutional reform package. This was despite widespread belief - even among democrats - that the camp would be hit hard by the calm political climate".



"Hong Kong's prosperity is built on free trade and free enterprise. All over the world, these assets are seen as conducive to democratic development. Sadly, this is not universally accepted here. The democrats need to show they are not anti-business, and the business community should realise the city's future lies with full democracy"

Resultados das Eleições Legislativas em Hong Kong (quadro Wikipedia)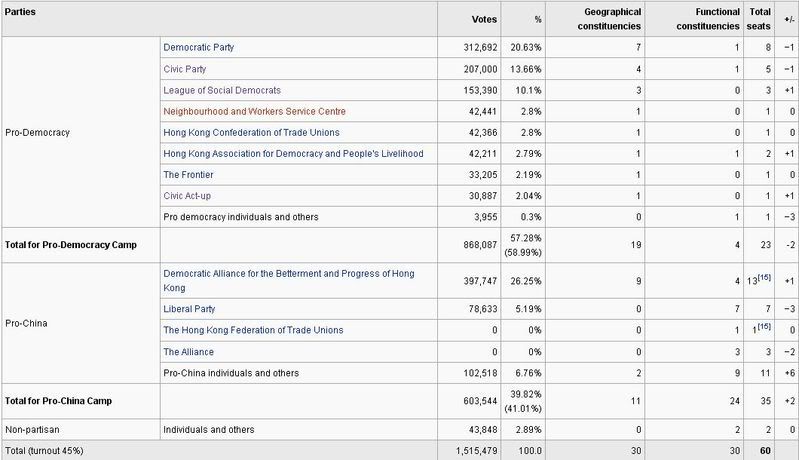 "Clicar" para ver quadro em tamanho maior.