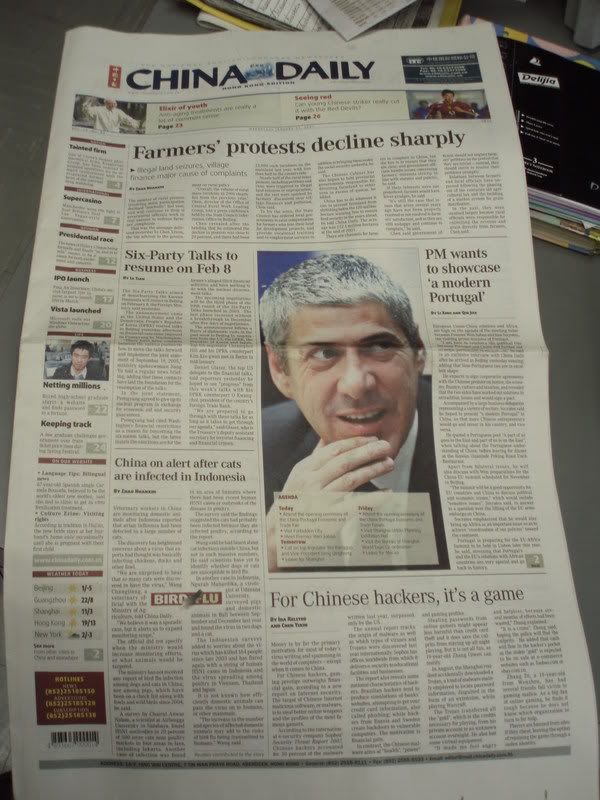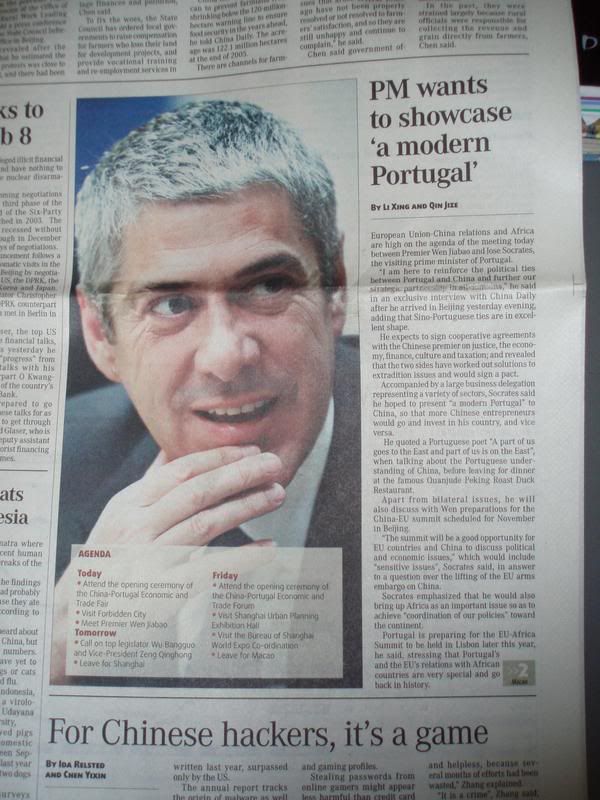 "PM wants to showcase 'a modern Portugal", By Li Xing and Qin Jize
"European Union-China relations and Africa are high on the agenda of the meeting today between Premier Wen Jiabao and Jose Socrates, the visiting prime minister of Portugal.
"I am here to reinforce the political ties between Portugal and China and further our strategic partnership in all domains," he said in an exclusive interview with China Daily after he arrived in Beijing yesterday evening, adding that Sino-Portuguese ties are in excellent shape.
He expects to sign cooperative agreements with the Chinese premier on justice, the economy, finance, culture and taxation; and revealed that the two sides have worked out solutions to extradition issues and would sign a pact.
Accompanied by a large business delegation representing a variety of sectors, Socrates said he hoped to present "a modern Portugal" to China, so that more Chinese entrepreneurs would go and invest in his country, and vice versa.
He quoted a Portuguese poet "A part of us goes to the East and part of us is on the East", when talking about the Portuguese understanding of China, before leaving for dinner at the famous Quanjude Peking Roast Duck Restaurant.
Apart from bilateral issues, he will also discuss with Wen preparations for the China-EU summit scheduled for November in Beijing.
"The summit will be a good opportunity for EU countries and China to discuss political and economic issues," which would include "sensitive issues", Socrates said, in answer to a question over the lifting of the EU arms embargo on China.
Socrates emphasized that he would also bring up Africa as an important issue so as to achieve "coordination of our policies" toward the continent.
Portugal is preparing for the EU-Africa Summit to be held in Lisbon later this year, he said, stressing that Portugal's and the EU's relations with African countries are very special and go back in history.
Making his first visit to the Chinese mainland, Socrates said he was eager to see a "modern Macao", which he visited a few months before its handover in 1999. "I've heard Macao is now an example of success, contributing a lot to China's growth," he said.
Analysts say Sino-Portuguese ties have taken a great leap forward since the return of Macao and have been developing rapidly.
"Macao's smooth handover and its continuing prosperity have greatly enhanced Portuguese confidence in the Chinese government and opened a new page in establishing a sound foundation for cordial relations," said Zhao Junjie, senior researcher at the Chinese Academy of Social Sciences.
Zhao said using Macao as a trade platform to link China and Portuguese-speaking countries is a smart strategy as the special administrative region is uniquely qualified to liaise between the two sides.
Zhao said Portugal considers the coastal city with colonial-era buildings and streets a showcase of its culture in the East while on the other hand, China wants to take advantage of Macao's strengths to better integrate with other parts of the world.
According to official figures, two-way trade reached US$1.7 billion last year, 40 percent up from the previous year. China is the third biggest buyer of Portuguese exports outside the EU".
(China Daily 01/31/2007