Este é que é o anunciado primeiro-ministro civil que os militares golpistas tinham prometido (!!!)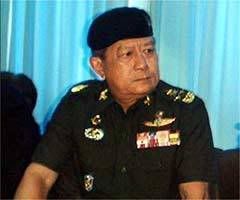 "Thailand's military rulers have chosen General Surayud Chulanont, a former head of the military, to succeed overthrown prime minister Thaksin Shinawatra, the website of state-run Radio Thailand reported Friday. The website quoted Thailand's auditor general Jaruvan Maintaka as telling reporters that Surayud, 63, was the generals' choice. "It is quite certain," she said."
"Retired general picked as new Thai PM: state radio2, Channel News Asia.