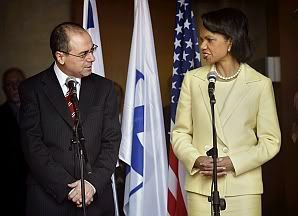 Photo: AP
"Mas foi sem querer, minha senhora" ..........."Vê lá o que andas a fazer"
A propósito da venda de armas de Israel à China:
Silvan Shalom, ministro israelita dos negócios estrangeiros
"If things were done that were not acceptable to the Americans then we are sorry but these things were done with the utmost innocence,"

Condoleeza Rice, secretária de estado norte-americana
"I think everybody knows our concerns about arms sales to China, particularly arms sales to China, with countries with which we have strong defense cooperation relationships, which we do with Israel".
O Jerusalem Post conta a história.
Entretanto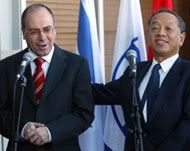 "Não tem de quê. Pode ser que a Rice não descubra"....."Obrigadinho pelas armas pá"
Li Zhaoxin, ministro chinês dos negócios estrangeiros
"My purpose of the visit here is to step up our joint efforts for the common cause of our peoples"

David Shaloom, depois de ter perdido um jogo de pingue pongue com o homólogo chinês
"I had to lose in order to avoid a diplomatic incident"
A Xinhua reporta a visita do chefe da diplomacia chinesa a Jerusalém.